February 14, 2002
For Langston Hughes, Centennial Appreciation
By STEPHEN KINZER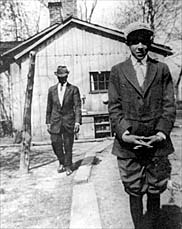 Langston Hughes
---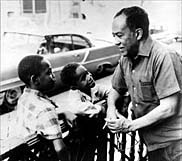 Langston Hughes
---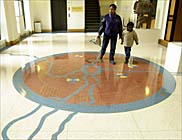 May He rest in peace
---
LAWRENCE, Kan., Feb. 11 — In one of his most famous poems, Langston Hughes asks what happens to a dream deferred. One of his own dreams was to establish himself for posterity as a major figure in 20th-century American literature, and last weekend he seemed to take a giant step in that direction.
There was a sense of triumph in the air as more than 500 scholars and other enthusiasts gathered at the University of Kansas to celebrate the 100th anniversary of Hughes's birth and to embrace his legacy. In speeches, films, concerts, art shows and poetry readings, they proclaimed him a visionary whose clarion voice spanned the heart of the 20th century from the Harlem Renaissance to the civil rights movement.
Günter H. Lenz, a professor of American studies at Humboldt University in Berlin, told the symposium that Hughes was a master of "black American modernism," adding that he wrote works "that would be the foundation for an authentic black art in the future."
Although critics still debate the profundity of Hughes's work, the pendulum is swinging back in his direction. The appreciation is partly based on the range of his talent. Although he is usually thought of as a poet, he also wrote novels, plays, short stories, essays, autobiographies, newspaper columns, children's books, opera librettos and translations of poets ranging from the Senegalese Léopold Senghor to the Spaniard Federico García Lorca.
Scholars at the centennial observance said Hughes was also the first African-American to succeed in making his living as a creative writer and the first to have a literary society devoted to studying his life and work. (Called the Langston Hughes Society, it was founded in 1981 and publishes a journal, The Langston Hughes Review.) The University of Missouri Press is in the midst of publishing a 17-volume edition of Hughes's complete works, and this month the Postal Service issued a stamp with his portrait.
"He was imitated by poets all over the world," the writer Ishmael Reed told the symposium. "He would put things down on paper, whether it was the plight of domestic workers or April in Paris. We should honor Langston Hughes for his ability to say what was in the souls of millions."
Hughes was born on Feb. 1, 1902, in Joplin, Mo., but was taken to Lawrence while still an infant and lived here until 1915. "I sort of claim to be a Kansan," he said during one of his later visits, "because my whole childhood was spent here in Lawrence and Topeka and sometimes in Kansas City."
Some people in Lawrence embraced Hughes as a native son even before he died, but in more recent years he has become a veritable hero. There is a bronze statue of him here, an elementary school named in his honor and a professorship at the University of Kansas in his name. His picture even adorns the cover of the local telephone directory over a caption that reads, "Lawrence is bringing Langston home!"
Besides his spiritual and family ties to Lawrence, Hughes also inherited one of his prized material possessions from his grandmother, with whom he lived for most of his time here. Before her marriage to Hughes's grandfather, she was the wife of Lewis Sheridan Leary, a follower of the abolitionist firebrand John Brown. Leary died of wounds suffered during Brown's famous 1859 raid on the federal arsenal at Harpers Ferry. She kept the bloodstained shawl he wore that day and often used it to cover young Langston as he slept. Hughes inherited the shawl, and years later it was the only item he salvaged when his apartment in Harlem was flooded.
In 1926, when he was 24, Hughes burst onto the national scene with an essay called "The Negro Artist and the Racial Mountain."
"We younger Negro artists who create now intend to express our individual dark-skinned selves without fear or shame," he declared in that essay. "If white people are pleased we are glad. If they are not, it doesn't matter. We know we are beautiful. And ugly too."
For much of his later life, Hughes lived in a town house at 20 East 127th Street in Harlem. But although he spent his career immersed in the contradictions of African-American life, he considered himself a chronicler of the full American experience.
"Those of us engaged in this racial struggle in America are like knights on horseback, the Negroes on a white horse and the white folks on a black," he once wrote. "Sometimes the race is terrific. But the feel of the wind in your hair as you ride toward democracy is really something!"
In the years before his death in 1967, Hughes saw himself eclipsed by black literary figures like Richard Wright, Ralph Ellison and James Baldwin. Some criticized him for what they saw as his overly compassionate view of white Americans. While Hughes was still alive, Baldwin wrote in a review, "Every time I read Langston Hughes, I am amazed all over again by his genuine gifts — and depressed that he has done so little with them."
Some admirers of more classical modern poets like Pound and Eliot remain doubtful of Hughes. The critic Helen Vendler once asserted that he "is not a great poet, but he is a fascinating, original and disturbing one."
Other scholars, like the Nigerian- born Onwuchekwa Jemie, who teaches at Howard University, scorn Pound and Eliot for writing elitist poetry. He called their poetry "a code needing to be cracked," and praised Hughes for work that is "folksy, populist and proletarian."
"Critics do not rank Hughes as a writer of the first class," Mr. Jemie told the symposium. "To that I say, too bad for the critics."
In the keynote address at last weekend's symposium, Arnold Rampersad, author of a two-volume Hughes biography, traced the stages of the poet's turbulent life. He called the 1920's Hughes's "formative decade," when he attended and then dropped out of Columbia University, traveled to Europe and Africa, embraced the populist poetics of Walt Whitman and Carl Sandburg and began his lifelong passion for jazz and blues music.
Mr. Rampersad said the 1930's were Hughes's "decade of bitterness." In those years he toured the South, giving poetry readings in poor communities and visiting the Scottsboro Boys, as they were known, in their Alabama prison. Radicalized by what he saw, Hughes turned toward Communism, spending a year in the Soviet Union, writing poems that idealized revolution and scorned religious belief and, Mr. Rampersad said, "surrendering his prestige, what little he had, for radical action."
In the 1940's and 50's, Mr. Rampersad said, Hughes repudiated his Marxism, telling Senator Joseph R. McCarthy's subcommittee "that much of his earlier writing had been misguided" and, Mr. Rampersad added, "turning away in, some would say, a cowardly way from the radical left." Later Hughes supported the civil rights movement, entered a period of great creative productivity and "became the poet laureate of the Negro race, a wonderful title I believe he bestowed on himself," Mr. Rampersad said.
At one of the tributes here, the poet Amiri Baraka, who as a young man distanced himself from Hughes, said Hughes's cooperation with McCarthy meant "momentarily copping out, it's true, but it doesn't detract from my love for him."
"Langston for me was the guidepost," Mr. Baraka said. "We stand on Langston's shoulders."
All his life, Hughes was transfixed by the rhythms of African-American music. He recorded an album of his poetry accompanied by Charles Mingus's jazz and requested that Duke Ellington's "Do Nothing Till You Hear From Me" be played at his funeral. Some claim him as a progenitor of today's rap and hip-hop culture.
"The very people that he documented so well, because he was a documentary poet, were the people who created hip-hop," said Kevin Powell, an essayist and a founding staff member of Vibe magazine. "I think he would see blues, jazz, bebop and this new thing as all part of the African experience in this country. We're still asking the same questions that Langston Hughes was asking when he was dying in 1967."
---
Copyright 2002 The New York Times Company